BITCRYSTALS TOKEN SALE
PURCHASE BITCRYSTALS WITH XRP AND GET A RIPPLE CARD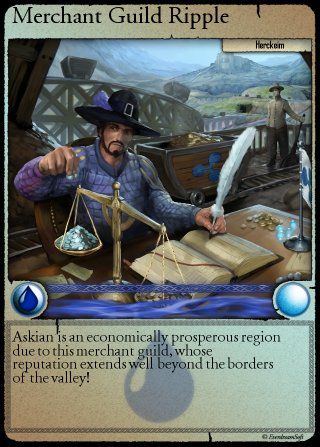 RIPPLE CARD - LIMITED EDITION
RIPPLE CARD, playable as "Merchant Guild Ripple" is a blockchain-based trading card created by
EverdreamSoft, exclusively for [ur=https://ripple.com/l]Ripple[/url]. There is a
limited stock of
500 RIPPLE CARDS
and those will be distributed to the
BitCrytstals Token Sale backers
,
purchasing BitCrystals
with
XRP
, upon certain conditions.
HOW TO GET A RIPPLE CARD
To get a card from this limited edition, you have to purchase BitCrystals in our Token Sale with
XRP. For an equivalent of 0.5BTC (around 15 830 XRP), you will get one RIPPLE CARD, and another
one for each extra BTC (its equivalent in XRP).
IMPORTANT
: While purchasing your BitCrystals, put the
promo code "BCYripple"!
ATTENTION: Limited supply!
JOIN THE BITCRYSTALS TOKEN SALE!